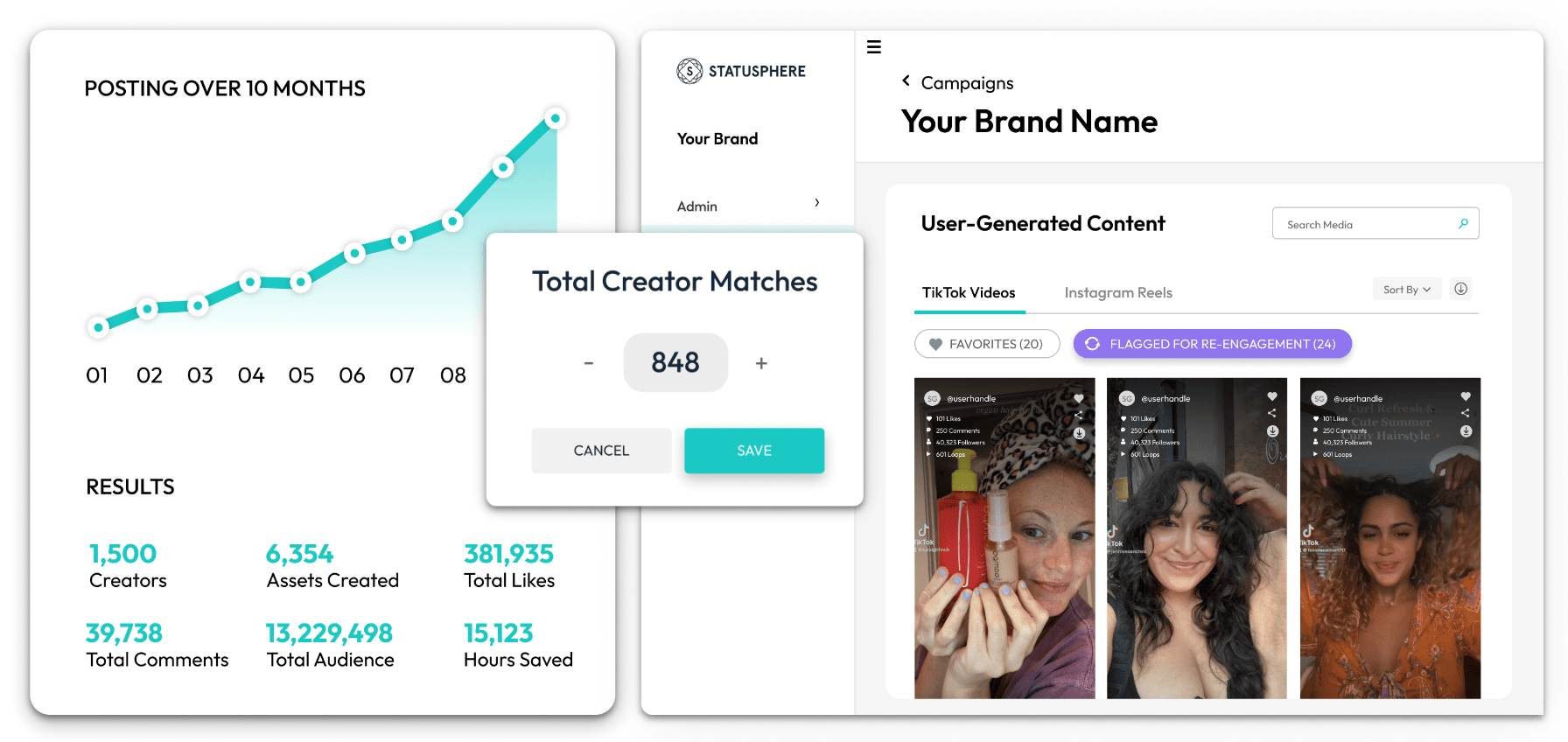 Like most brands, you've probably tested your share of influencer marketing software.
Maybe you've realized that spreadsheets and free influencer tools won't cut it anymore.
Or that your current solution isn't actually making your team more productive.
Trust us: you're not alone. Brands are scrambling to scale creator content and take back their schedules by investing in smarter software. We talk to so many marketers playing musical chairs with creator tools right now.
But choosing new martech can be messy and influencer platforms are no exception.
After partnering with 400+ brands and building a platform featuring tens of thousands of micro-influencers, we've seen firsthand where influencer software can shine (or fall short!) for brands.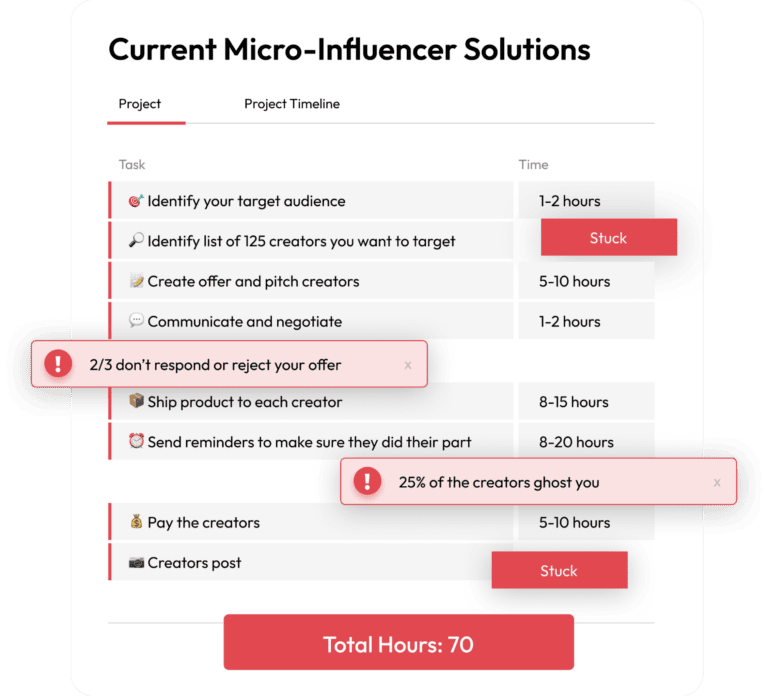 So, how can you confidently pick the best influencer marketing platform for your brand?
And what makes the most sense for your company, customers and creators?
This deep dive discusses all things related to influencer platforms, including:
The state of influencer tools for brands (and why yours needs to get smarter)
Features of influencer software that maximize UGC and your team's productivity
Why using a micro-influencer platform is ideal for brands to scale content
Skip to Section 👇
Why Your Brand's Influencer Software Needs to Get Smarter
As marketers' investment in influencers soars into 2024, the question for brands isn't "Do we need a dedicated influencer platform?"
Instead, ask yourself: "Is our influencer platform powerful enough to scale?"
Given all the moving pieces of creator campaigns, bottlenecks and slowdowns are all too common. As a result, B2C brands are upgrading beyond simple influencer search tools.
Because tasks like finding and managing creators are too much of a time-sink for brands that want a high volume of UGC.
Below is a snapshot of why brands should demand more from their influencer solutions.
Brands Face Increased Pressure to Define Influencer ROI
We've heard this one before: marketers are struggling to convey ROI across channels.
And despite the proven effectiveness of influencers, some skeptical stakeholders demand in-depth "proof" that creators are moving the needle.
Totally understandable! That's exactly why brands need influencer reporting and analytics versus surface-level metrics.
Ideally, your influencer platform should point to answers to questions including:
How are influencers impacting our awareness, reach and share of voice?
What are our best opportunities to repurpose our content into ads?
How much time is our platform saving us versus running campaigns DIY?
Beyond time savings from using a platform, the ROI of influencer campaigns hinges on the types of creators you partner with. We're seeing more brands rely on communities of micro-influencers to fuel their campaigns.
For reference, creators with less than 2,000 followers earn exponentially more reach than bigger accounts on Instagram. The same rules apply to TikTok where creators with less than 5,000 followers have the highest view and watch rates.
This signals the value of micro-influencer platforms that match brands with smaller creators with engaged followings, established trust and a greater likelihood of trending.
Brands Need New Ways to Maximize Influencer Content
"Create once, repurpose forever."
This marketing mantra is all the rage in B2B and should apply to B2C brands as well.
Ads. Emails. Product pages. The opportunities to repurpose UGC are endless.
Anything you can do to squeeze more value out of your marketing assets is a plus. This includes your influencer content.
Content repurposing and distribution don't happen by default, though. Consider how your choice of influencer software can speed up the process of stretching your creator content.
Some platforms can actually automate the process of obtaining content usage rights for repurposing UGC. This eliminates outreach and likewise legal headaches related to promoting your influencer content.
Speaking of promotions, also consider whether your influencer platform streamlines up the process of turning influencer content into ads. For example, some software features built-in allowlisting. Brands that consistently earn content from creators have more flexibility to weave fresh creatives into paid campaigns.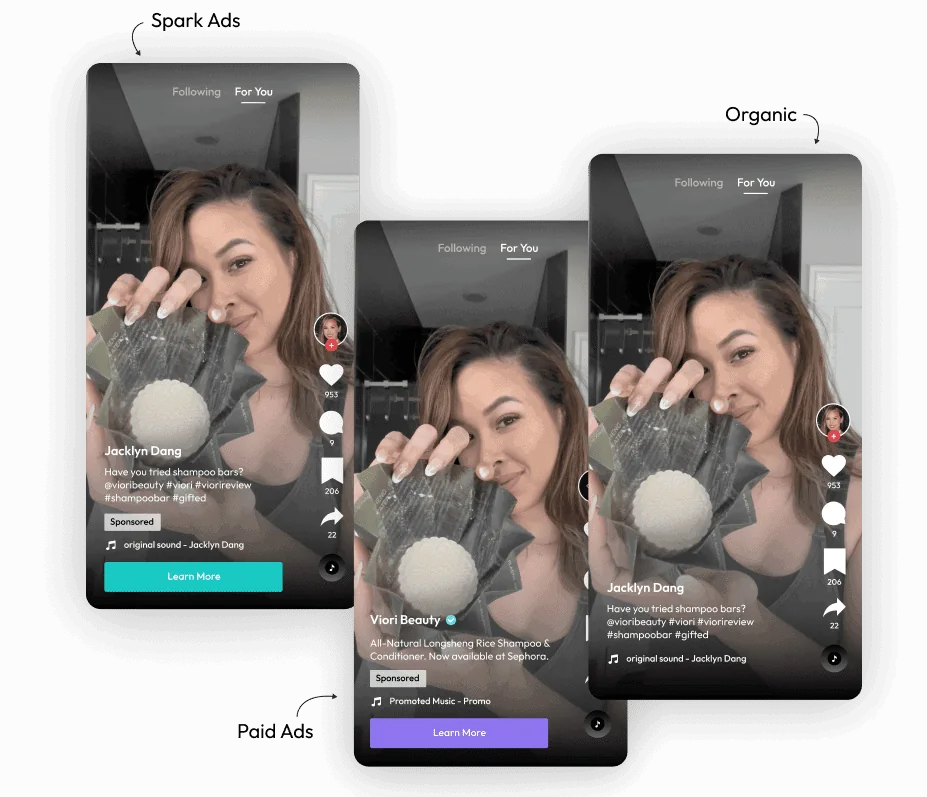 The ability to instantly allowlist content within your influencer platform not only saves time but ensures that you're running your best content as ads. Both Instagram and TikTok note that creator-based ads outperform in-house ad creatives.
For more context, check out our post on influencer allowlisting (AKA whitelisting).
Strong Brand Awareness Requires an Always-On Influencer Strategy
In the era of always-on influencer marketing, brands are rightfully treating creator campaigns like SEO or email marketing:
Ongoing, driven by data and consistently optimized.
Food for thought: social media and influencers are the top two product discovery channels for modern consumers.
As a result, B2C brands require a constant flow of fresh content to stay top of mind and fuel their marketing funnels. With competition so fierce across industries, there's a need for quality and quantity with creator content to keep up with the demands of…
Social SEO. Ranking for keywords on platforms like TikTok happens through a high volume of influencer content and engagement to match. Securing those rankings long-term requires hundreds of creators and ongoing UGC.
UGC ads. The impact of influencers on social media ads is well-documented. However, the issue of performance decay is something that many marketers don't talk about. With many ads losing effectiveness within 30-60 days, brands benefit from consistent creator content to cycle into their UGC ads.
Ever-changing consumer trends. Note that creators have a constant pulse on the latest shopping trends and what consumers want to see. This expertise translates to meaningful social engagement and more impactful content.
The stakes are high when it comes to brand awareness. However, scaling influencer content isn't sustainable without the right platform to drive your content engine.
Marketers Are Expected to Do More With Less
The reality of marketers wearing multiple hats is nothing new.
That said, the legwork required to effectively partner with influencers and earn more than a handful of posts is much more than most marketers bargain for. Working with influencers is night and day versus any other type of social media promotion.
Outreach and negotiation can be massively time-consuming by themselves if you're trying to hire influencers from a database or marketplace. That doesn't even take into account time sinks like fulfilling orders, briefing creators and rights management.
The more creators you plan to partner with, the more these tasks will snowball into a full-time job (or team). This highlights the need for brands to invest in a platform that streamlines or flat-out eliminates tedious influencer management tasks.
For more context, check out our pros and cons of using an influencer marketing platform versus running campaigns yourself.
The Most Common Types of Influencer Marketing Software
Brands are spoiled for choice when choosing influencer marketing platforms.
Here's a quick snapshot of the most common categories of influencer tools available. Keep in mind that some of these platforms overlap when it comes to features.
Influencer Search Engines, Databases and Marketplaces
Influencer search engines are directories that aggregate influencer profiles across social media. These platforms are searchable based on parameters like engagement rate, industry, location or demographic data.
The utility of these types of tools varies wildly from platform to platform.
For example, some influencer search tools only allow brands to filter influencers based on basic details such as their follower count or industry. This can create headaches for finding niche creators that don't fall into a "typical" industry category.
For more context, check out our post on the pros and cons of using influencer database software.
Influencer CRMs
Influencer CRMs are platforms that enable brands to manage one-on-one communication while building relationships with content creators.
CRMs live up to their namesake by focusing primarily on influencer relationship management. These types of tools provide a single place for brands to:
Request new content from creators
Negotiating rates and content usage rights
Assigning creative briefs, post requirements and content deadlines
Fulfilling orders and tracking product shipping
These platforms are ideal for brands that want a very hands-on experience with influencers. Not to mention a dedicated team to handle influencer content.
For brands working with influencers consistently, a CRM can be great for the sake of organization and not drowning in DMs. That said, brands partnering with hundreds of creators will quickly find themselves overwhelmed with one-on-one communication.
Influencer Gifting and Seeding Platforms
Influencer gifting (aka "seeding") platforms serve as a way for brands to ship free products to influencers.
Like all influencer software, the abilities of what a gifting platform can do vary from tool to tool. These platforms generally act as influencer search engines that match or require you to search for creators to send products, too. Sometimes you're still on the hook for handling shipping and fulfillment.
Although seeding may seem cost-effective at a glance, the process can be a gamble and a time-sink even with a platform. Earning content at scale isn't realistic you're still doing the bulk of work when it comes to finding and shipping products to creators.
Gifting platforms are often a jumping-off point for more advanced influencer tools that guarantee content and ongoing collabs versus one-off gifted posts.
UGC Platforms
UGC platforms are tools that aggregate user-generated content for your brand.
These platforms gather posts and videos featuring your product or @tagging your brand. Some platforms solely identify and source content while some tools can assist in generating new UGC.
One of the key features of any UGC platform is the ability to streamline and automate the process of granting content usage rights for ads.
Influencer Campaign Management Tools
Influencer campaign management platforms are all-in-one tools that consolidate content, communication, reporting and ad permissions for brands.
These platforms can be a sort of hybrid of all of the software listed above.
With a dedicated influencer campaign management tool, brands have a control center for their influencer promotions. Having an all-in-one tool is invaluable for brands that want to scale creator content and earn hundreds of posts long-term.
The catch? Many influencer management platforms are still self-service tools that require your team to do the heavy lifting.
Contrast this with software like Statusphere which takes one-on-one communication, reporting and gathering content totally off your plate. We empower brands to oversee their campaigns and focus on gathering content versus overseeing the nitty gritty of every influencer post.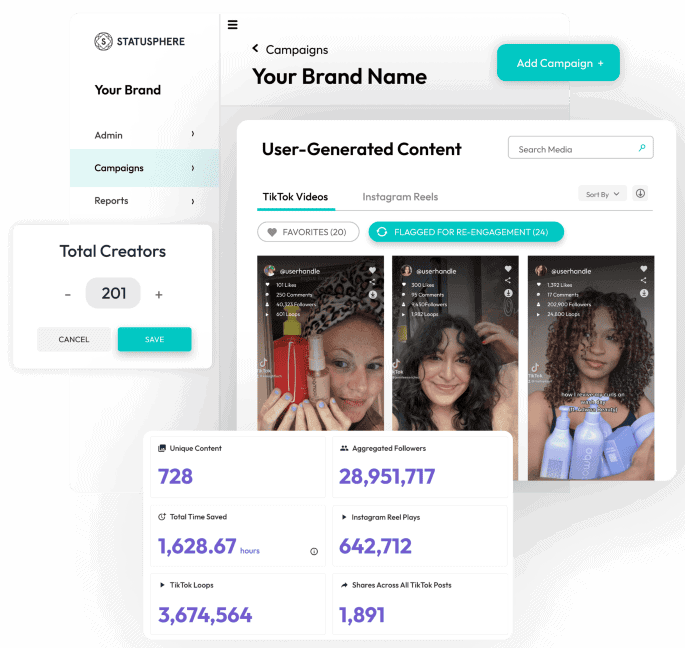 What Features Do Best Micro-Influencer Marketing Tools Share?
Reality check: working with smaller creators shouldn't mean settling for fewer features.
On that note, many tools lack the features that brands need that are specific to micros.
Because what you get from a micro-influencer platform is apples and oranges versus a one-size-fits-all influencer management tool. That's because brands working with smaller creators have specific priorities including:
Earn 100s of pieces of UGC long-term (without manual research or outreach)
A hands-off approach to micro-influencer management, fulfillment and
A desire for authentic, raw influencer content versus "polished" creator posts
Below are the software features brands should seek out to save time and scale content.
Automated Influencer Targeting and Matchmaking
Finding influencers is notoriously time-consuming. You probably know this firsthand.
Eliminating manual influencer discovery should be your top priority to win back your schedule. Through automated influencer matchmaking, you can hone in on the right types of creators in a fraction of the time it'd take to comb through profiles by hand.
However, many influencer "search engines" stop there and leave you to do the rest.
Hot take: the best influencer matchmaking software should not only match you with creators but also take the next step of getting the partnership started.
That's why it's crucial to use a platform that doesn't require any manual digging on your part. For example, Statusphere targets based on the parameters that matter most to your business. Specifically, 250+ unique, first-party data points. This eliminates the need to vet influencers one by one.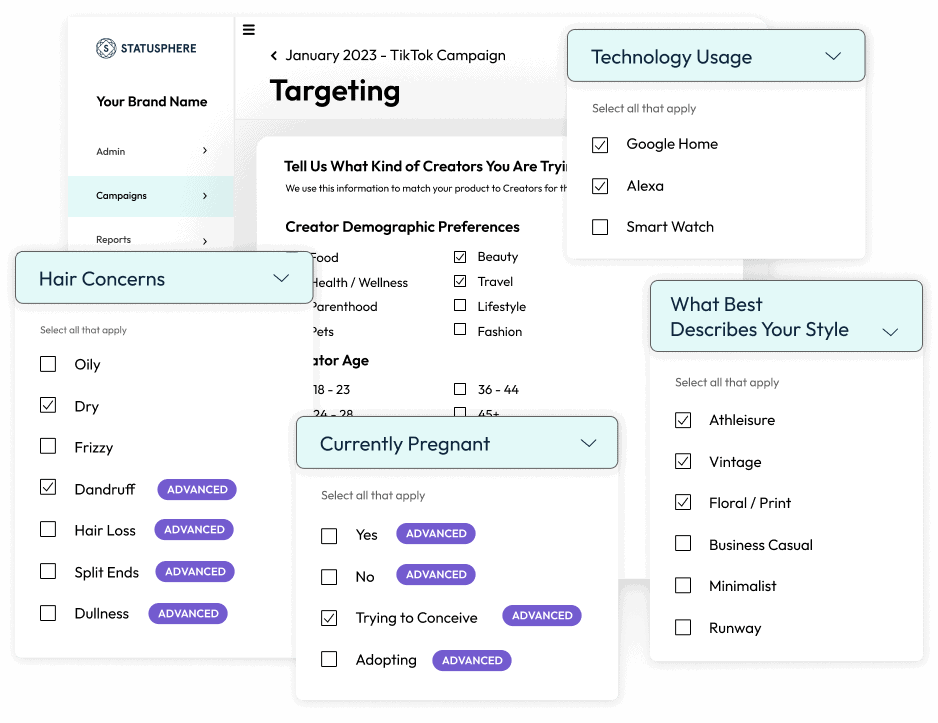 Micro-influencers are especially tricky when it comes to discovery and outreach. Up-and-coming influencers don't always have dedicated business email addresses or contact information in their profiles. This makes outreach tricky.
Another key feature that separates influencer matchmaking software is influencer geo-targeting. This feature should be built into every influencer platform for retail brands given that 50% of consumers want to see user-generated content in retail spaces.
Platforms like Statusphere can match brands with creators to create in-store content at your preferred retail locations. For example, a beauty brand launching in Ulta can match with influencers in a specific target market to align with a launch day promotion.
Streamlined Influencer Content Management
After working with thousands of micro-influencers over the years, we know firsthand how a "hands-off" approach is ideal for brands that want a high volume of authentic, unpolished content.
Any micro-influencer marketing platform should take tedious tasks off of your plate by…
Providing built-in content briefing and usage rights for allowlisting ads
Vetting its creator network to ensure that you work with authentic influencers
Automatically sourcing influencer videos and posts, allowing you to download all of their content from TikTok and/or Instagram in one place
We specifically built Statusphere to eliminate the shared headaches of brands and creators alike. Features like one-click creator reactivator allow brands to request content from their favorite influencers without having to send a single message. Our platform likewise automatically aggregates your content and performance data for each post.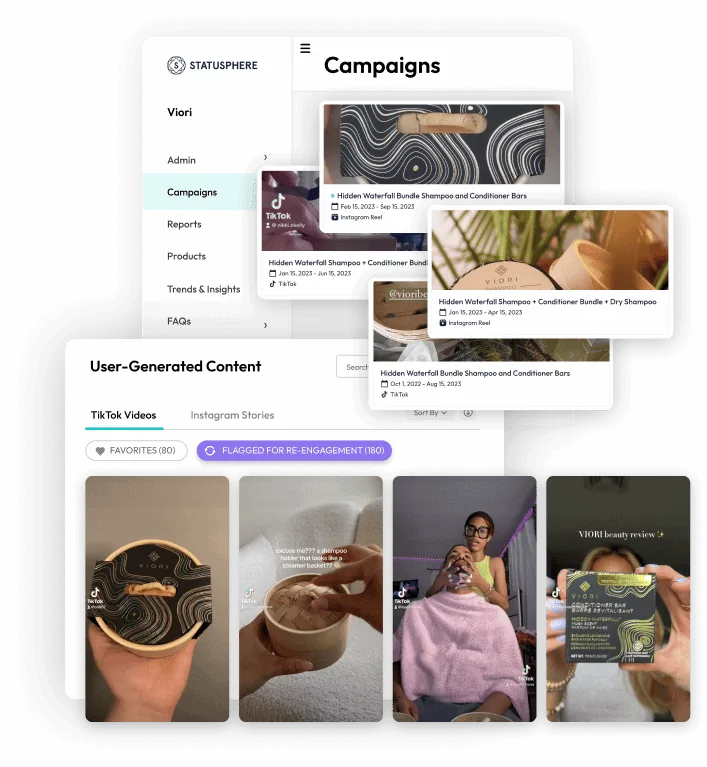 While you can't (and shouldn't!) automate every piece of your influencer campaigns, there are plenty of manual tasks you can put on autopilot without a second thought.
Our take? The less back-and-forth, the better for both parties.
Creator-Friendly Fulfillment Technology
Getting products into the hands of hundreds of creators is a tall order.
That's why influencer fulfillment is a make-or-break when working with micros.
Most micro-influencer marketing platforms treat product fulfillment as an afterthought. You just outsource the process to a third-party fulfillment solution and call it a day, right?
The problem: this approach doesn't exactly ensure the best creator experience. Lost orders, lag times and delays are bad news for brands and creators alike.
This highlights the value of Statusphere's influencer marketing software and wholly-owned fulfillment center. With our platform, all orders are shipped within 48 hours and creators are kept in the loop via automatic notifications.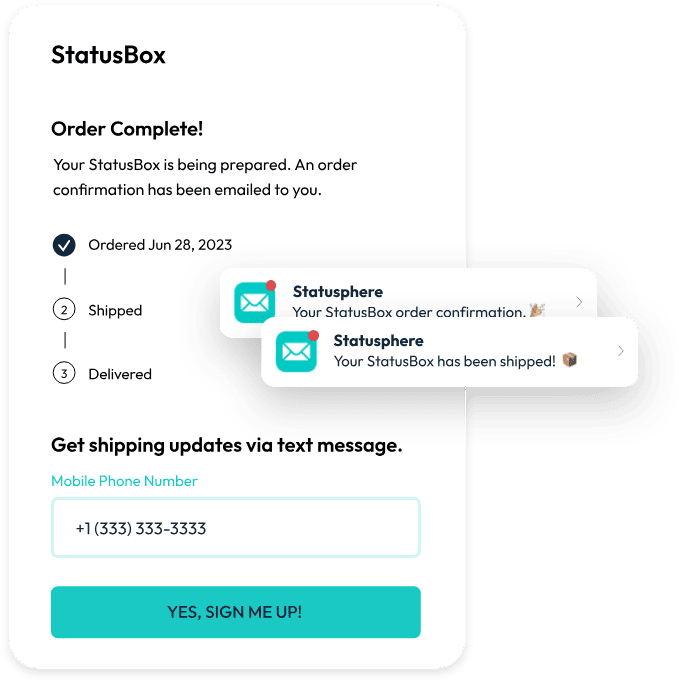 Top-tier influencer content starts with a top-tier creator experience. These seemingly "minor" details of your influencer platform can have a big impact on your creators.
Fully Vetted Influencers
Chances are you've seen software promoting access to "millions of influencers."
Impressive? Maybe.
Then again, there's no way to possibly vet or audit so many creators one by one. If you've tried building your own influencer database, you know how tedious and time-consuming conducting an influencer audit can be.
Some influencer platforms bypass the vetting process by using scraped data and third-party sources to aggregate their creator networks. At the same time, platforms like Meta are cracking down on data scraping for these types of platforms.
The result? Inaccurate and outdated influencer information from many influencer search tools. In turn, brands waste time with bounced outreach messages or creator profiles that have disappeared.
This drives home the importance of first-party influencer data and choosing an influencer platform with a vetted network of creators. Much like your brand might be wary of buying a third-party email list, the same question of quality and legitimacy applies to influencer search engines and databases.
Contrast this with Statusphere's influencer platform for brands which was built alongside our vetted influencer network. The fact that each member of our network is reviewed and approved ensures quality control and better content for our brands.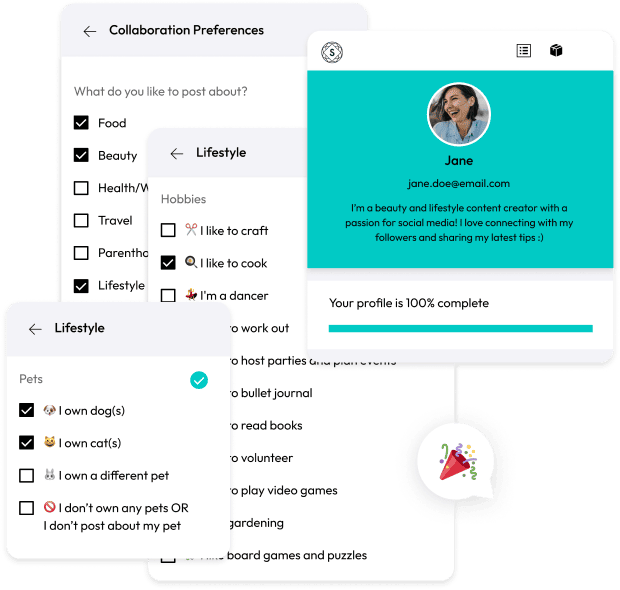 Not to mention the fact that we have first-party data for all members within our platform to ensure accuracy. We'll say it again: Statusphere uses 250+ unique, first-party data points to match brands with creators. This means that you're more likely to find relevant influencers no matter how "niche" your brand or product might be.
Real-Time Influencer Reporting and Analytics
Marketers are becoming more obsessive over metrics. Influencer reporting and analytics are critical for teams concerned with brand awareness and measuring performance.
And one of the biggest challenges of traditional micro-influencer campaigns is gathering and sourcing data from creators.
Scaling to hundreds or thousands of posts makes automated reporting an absolute must-have. The idea of calculating engagement rates or manually counting each piece of influencer content by hand is exhausting.
This is where having an approved network of creators and first-party data aggregated in one platform can be a game-changer. With Statusphere, brands can see their real-time analytics for influencers to keep a constant pulse on campaign performance and see new content rolling in at the same time.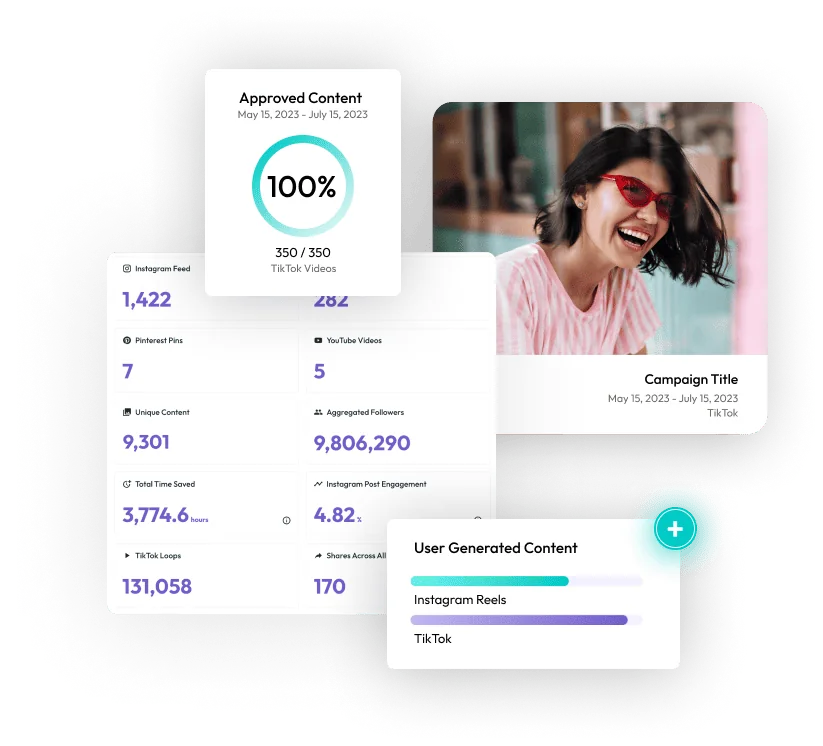 What Else Brands Should Consider When Switching to Micro-Influencer Marketing Software
Choosing the best influencer platform for your brand isn't a one-size-fits-all affair. Your goals, audience and industry are all major factors.
Let's say you're committed to switching software, though.
Great! Still, there are a few key details to note when migrating from a traditional tool to a micro-influencer marketing platform that emphasizes smaller creators.
Note: when we talk about micro-influencers, we're primarily referring to creators with anywhere between 10,000 and ~100,000 followers.
For more context, check out our post on defining micro-influencers. Statusphere's platform and network also feature niche nano-influencers and select "power-middle" influencers with 100,000+ followers.
Time-Savings
Getting hundreds of influencer posts shouldn't take hundreds of hours.
That's why it's important to prioritize influencer software with a low learning curve and features that reduce friction between you, your influencers and your content.
Consider the time-saving features built into any given influencer platform like:
The ability to target different audiences with different products month-to-month
Intuitive setup and ongoing support from an expert team (if you need them!)
The ability to onboard your existing influencers from past campaigns
A hands-off approach to influencer management means empowering creators with the right value exchange and instructions from the word "go."
Onboarding Your Brand's Own Influencers
Piggybacking on the point above: if you've spent valuable time building up existing influencer relationships, you shouldn't let them go to waste.
Starting with a new platform doesn't have to mean dismantling your existing influencer program. Many of our brands partner with macro-influencers and manage those relationships one-on-one, letting Statusphere's software power their always-on campaigns with smaller creators. Some brands will upload their influencer roster into our platform, too.
While we're all about micro-influencers, we understand it's not always a matter of either-or. There's absolutely a time and place for macro-influencers. The takeaway here is that your influencer platform shouldn't force you to sacrifice flexibility when it comes to your creator partners.
Guaranteed Content
We often talk to brands who are surprised (or downright disappointed) when they find themselves merely paying for access to an influencer tool versus earning content.
Many search tools offer a bare minimum directory and leave users on the hook for tasks like outreach, fulfillment and communication.
But to be fair, many influencer management tools are exactly that: tools.
They help you streamline some tasks related but don't do all of the heavy lifting.
This is in stark contrast to a solution like Statusphere that actually guarantees content. Whether you want 20 or 200 posts over time, our credit system ensures that you get the content you pay for as part of your access to our platform.
Check out our plans for more information on guaranteed content and our influencer marketing platform pricing that offers brands much-needed flexibility.
Why a Micro-Influencer Marketing Platform is Best for B2C Brands
The shift toward micro-influencer platforms has been a long time coming. Brands understand the need to go beyond a handful of collaborations and likewise need specialized platforms to earn content at scale. To recap:
High volumes of micro-influencer content help brands rank in social search and get picked up by social algorithms (resulting in ongoing visibility).
For brands that require niche creators, it's much more time-efficient (and realistic) to find micro-influencers through a matchmaking platform versus trying to seek them out yourself.
Through an influencer platform that enables allowlisting, brands can quickly create high-performing TikTok or Instagram ads featuring top micro-influencers based on content that's proven to perform. This helps brands overcome ad decay and reduces friction when running influencer content as ads.
Consumers trust word-of-mouth above any other type of marketing message. The growing demand for micro-influencers reflects modern shoppers who want to see authentic and unfiltered content before they're ready to make a purchase.
Letting software take influencer campaigns off your plate might seem like a big leap. We get it! That said, Statusphere is different than other micro-influencer marketing platforms.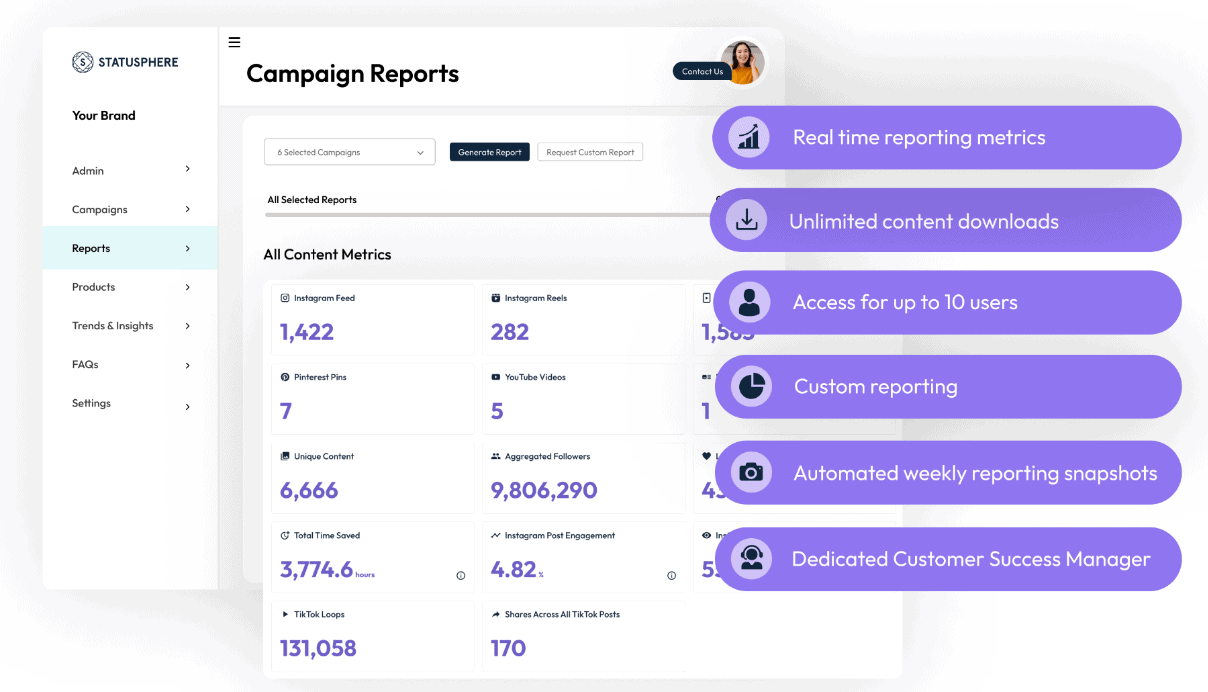 With the help of our intuitive software and expert team, you can seamlessly execute and optimize your strategy with confidence. Statusphere has already generated 75,000+ pieces of authentic, rights-ready UGC for 400+ brands.
If you're looking for the best micro-influencer platform for taking back your schedule and earning guaranteed content at scale, get in touch with one of our influencer experts to learn more and see our platform in action.